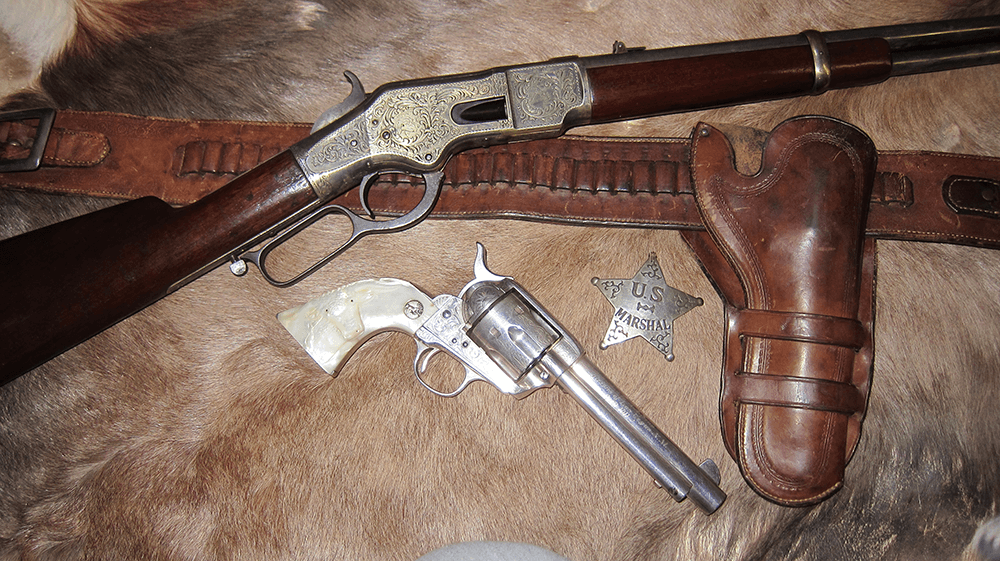 Winchester '73 in .38-40 Caliber – Made 1887
Renowned as "The Gun that Won the West", this antique Winchester 1873 for sale is a prize addition to any collectors presentation cabinet. Besides being a beautiful rifle, nothing said made in America like this collectors piece. The Winchester Model 1873 Rifle holds its' value and will make all your friends envious at the same time.
The hard working cowboys of the day required dependable protection that worked with both a rifle and pistol—carrying too much ammo weighed them down and the iconic Winchester 1873 .38-40 with a 24" barrel gave them the ability carry two different weapons and use the same ammo.
Winchester Repeating Rifle
This Winchester Repeating Rifle Model 1873 has all the standard features (as verified by a included factory letter) with a serial number of 253213B showing the weapon was made in 1887.
All parts are original except the front sight is an old period replacement and a reproduction cleaning rod in the butt stock. A tang sight was installed at one time and the original screw holes now have larger screws in them. The rifle is in fine condition with about 75% thinning blue on barrel and magazine. In addition, the frame still has about 75% bright blue with case colors on hammer and lever turning silver. The butt plate has completely turned to a silver color. All markings are deep and strong. The wood to metal fit is perfect and the wood has normal dings and scratches from use and oil darkened where metal meets wood. Therefore, the wood is in fine condition along with the butt stock retaining 60% original varnish. Mechanics are good and the bore good.