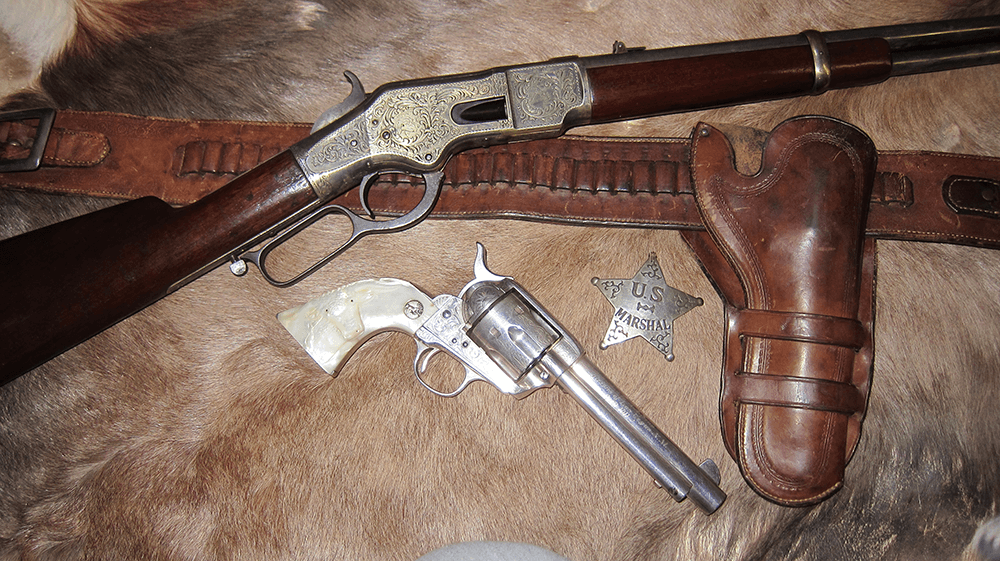 Winchester 1873 SRC 38 WCF
An uncommon and desirable Winchester Model 1873 SRC 38 WCF caliber, serial #289341B. A factory letter for this Winchester '73 carbine is included.  The letter verifies caliber, configuration and shipping date.  The '73 Winchester SRC is all original and in very good + condition having only a reproduction cleaning rod in the butt stock. The metal parts show almost all of their original bluing with only some high point and edge wear. The bluing has turned to a pleasant plumb color.
There is some medium pitting on the front 1" of the muzzle & magazine tube. Other than that, all the other surfaces are clean and smooth. All the markings are very good with an excellent barrel address, 38 WCF on the barrel behind the rear sight and "Model 1873" on the upper tang.
Original sights and screws, with the exception of a replaced front barrel band screw. The screws are in good condition. Original walnut stocks are in good condition showing a non-factory coating of old varnish. Stocks show typical dings and scratches (nothing serious), more on the butt stock from being carried in a saddle scabbard. Some of the dings in the butt have had some filler added before the the stocks were varnished. There are three notches in the stock behind the lower tang??? The stocks look much better than it sounds and the fore end has some nice figure to it. Mechanics are good and the bore is good, showing strong rifling and typical erosion from black powder use.
A very nice, higher condition, '73 Winchester SRC in 38-40 Cal.
Clarks Antiques Firearms – Winchester 1873 SRC 38 WCF – Price $4,495.00 
Item #1532
If you like this, you may also like our Winchester 1873 Rifle 38 Caliber