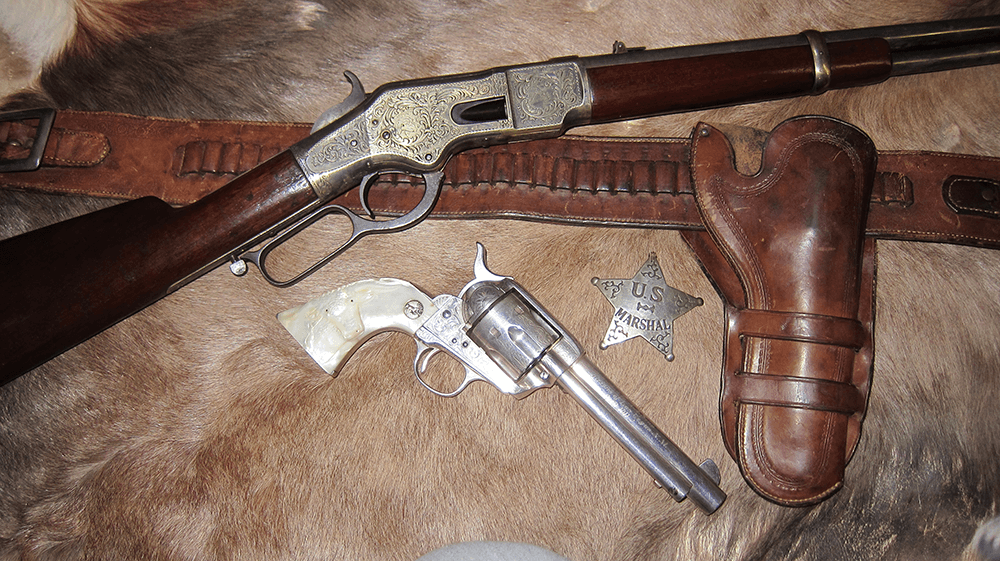 Winchester 1873 Trapper Carbine
Trapper Carbine
A rare Special Order Winchester 1873 Trapper Carbine with a documented 17-inch barrel. Serial #96XXX, manufactured in 1882, it shows a full nickel finish in .44-40 caliber. A factory letter (included) verifies "carbine", "barrel length: 17 inches" and "shipped on July 24, 1882".
This rare carbine was a "working gun" that saw little time inside a cabin. It most likely spent most of its time in a saddle scabbard and not fired much. Its 100% authentic and 100% original.
This "Trapper/Baby Carbine" is a transitional SRC from Second Model to Third Model, showing 2nd Model features like the reversed rear sight and single upper tang screw. The barrel and cartridge elevator, correctly, lack caliber markings. 
Winchester Condition
The nickel plating is factory or dealer applied and has always been on the gun since new. The carbine shows heavy outdoor use and carry. The barrel retains 60% nickel, the receiver 40% and the magazine tube about 10%. Just traces of the nickel is showing on the butt plate, but the brass trap door shows about 90%. Where the nickel is gone, the metal shows medium to heavy pitting.
The bore is surprisingly very good and bright and the action is smooth, tight, and mechanically perfect. The wood is original to the gun and un-sanded showing numerous small contusions & blemishes consistent with heavy use. The wood-to-metal fit is perfect. The wood shows no losses and the overall appearance is very good. The original 20″, trapper length, three-piece steel cleaning rod is in the stock cavity.
A great addition to a collection of rare frontier used firearms.
Clarks Antiques Firearms – Winchester 1873 Trapper Carbine – Price $6,950.00 SALE PENDING
Item #1670
If you like this you may like our Winchester 1866 Trapper SRC