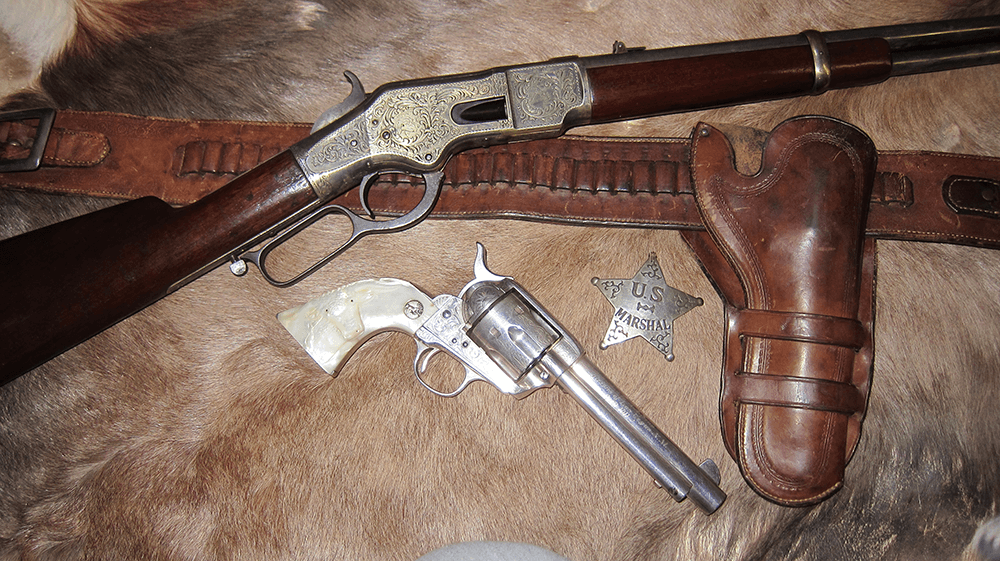 Winchester Engraved Model 1866 SRC
Winchester '66 in .44 Center Fire
Engraved Winchester
An early 3rd model Winchester Engraved Model 1866 SRC is a very attractive piece.  This Winchester '66 saddle ring carbine is nicely period engraved with the Mexican snake and eagle motif attributed to the Ulrich's, see "Winchester Engraving" by R.L. Wilson page 79.  This was a classic engraving pattern in the Southwest Territories.  Also, the snake and eagle motif was as popular in South Texas as they were in Mexico.  Similarly, in "The Winchester Book" by George Madis, page 104, another example of this engraving can be found.  Overall condition is very good.  Thus, the engraving is well accomplished and the brass frame is nickel plated with about 40% remaining – mostly on the left side. 
Winchester 1866 Mechanics
The barrel and magazine tube of this Winchester '66 retain a thinning blue finish that has turned to a plumb brown overall, as does the front sight barrel band. Also, the rear barrel band has been cleaned and the screw (somewhat buggered) is an old period replacement. However, the rest of the screws are good and all appear to be original. The hammer shows 30-35% nickel and the finger lever & trigger are dark in color with medium pitting.  Although, the finger level is an old period replacement that appears to have come off a Henry rifle, along with the lever latch being an old handmade replacement to accommodate the shorter lever, it looks just fine and works perfectly.  The bore shows a lot of use and is in fair condition. Overall, the mechanics are good, showing use and could do with a thorough cleaning.
The barrel address is good and readable and the rear sight is original. The gun has been period converted to 44 center fire (44 S & W American) which was very common on guns that were used up into the 20th century. Also, the stocks are in very good condition and show normal dings and scratches from use. However, the butt stock has four notches on the top right side, near the butt plate. In addtion, the forend and the butt stock both have an old coating on varnish. In fact, the butt stock is a modern replacement of the correct configuration and not original to the gun. It was professionally replaced and expertly done using the correct hardware (butt plate) and the wood-to-metal fit is excellent. It matches the forend that appears to be the original part. Only an experienced eye would ever perceive the butt as being replaced unless a total dis-assembly was done.
This Winchester '66 is a great looking gun with that south western look. It was used for many years and its original owner took very good care of it. To warrant a total replacement, the butt stock must have had some major damage (maybe worms). Whatever the reason, the replacement was correctly done and does not detract from the original look.
Clarks Antiques Firearms – Winchester Engraved Model 1866 SRC – Price $9,750.00
Item #1444
If you like this, you may also like our Winchester Model 1866 Carbine