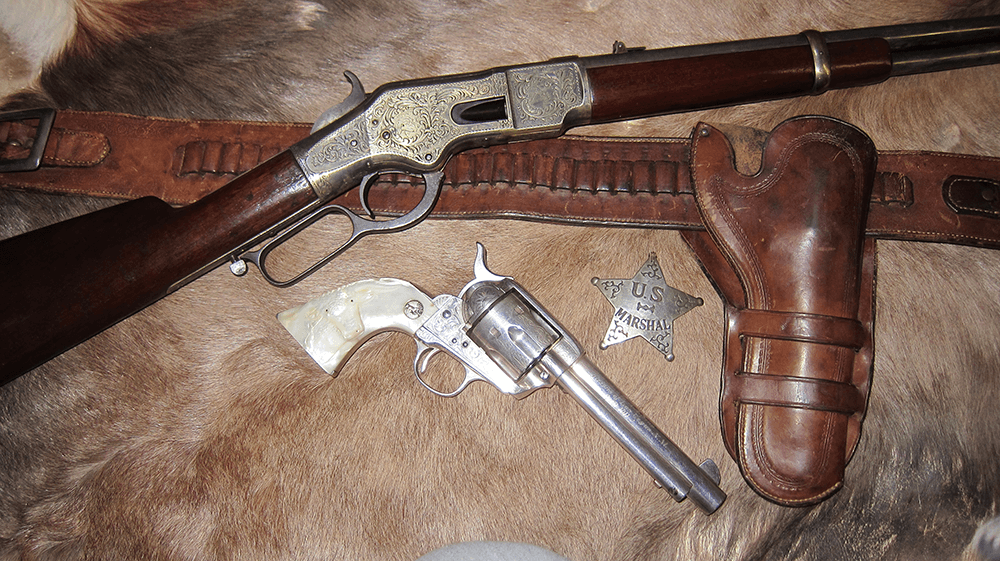 Double Carved Ivory Grips
A beautiful pair of double carved ivory grips for a Colt SAA. These 100-year-old grips are original circa 1920 Colt Medallion grips. They were carved sometime after the delivery of the gun they were originally on.
Colt SAA Grips
Both sides show a well carved steer head. They appear to be Texas Long Horn steers. The grips are bonded to a wood spacer and have no screw holes. Although, most carved grips show "raised" carvings, these do not. Since they were carved from original thickness factory grips, the steer heads are carved IN. Thus, leaving the grips their normal thickness. The carving is beautifully accomplished.  Furthermore, the grips show a nice aged patina.
Thomas Moro – Master Engraver
These carved grips are in perfect condition and would enhance the look and value of a high condition Colt single action. In addition, on the inside of the grips is carved "Tom Moro. Engraver, Elephant" and "Walla Walla. WA".
The late Thomas Moro (1935-2009) was an Italian-American artist based in Walla Walla, Washington.  Along with making attractive carved grips, Thomas Moro was also a Western author.  In addition, he was known for his Artistry in Bronze and Western & Wildlife Oil Paintings, Silver sculpture & Jewelry.
Will not ship any items with ivory to California, Washington State, New York, New Jersey, Oregon, or Hawaii because these states have a total ban on ALL ivory sales – new or antique.
Clarks Antiques – Western Memorabilia – Double Carved Ivory Grips – Price $2,500.00
Item #1606
If you like these, you may also like our Type 1 Eagle Grips