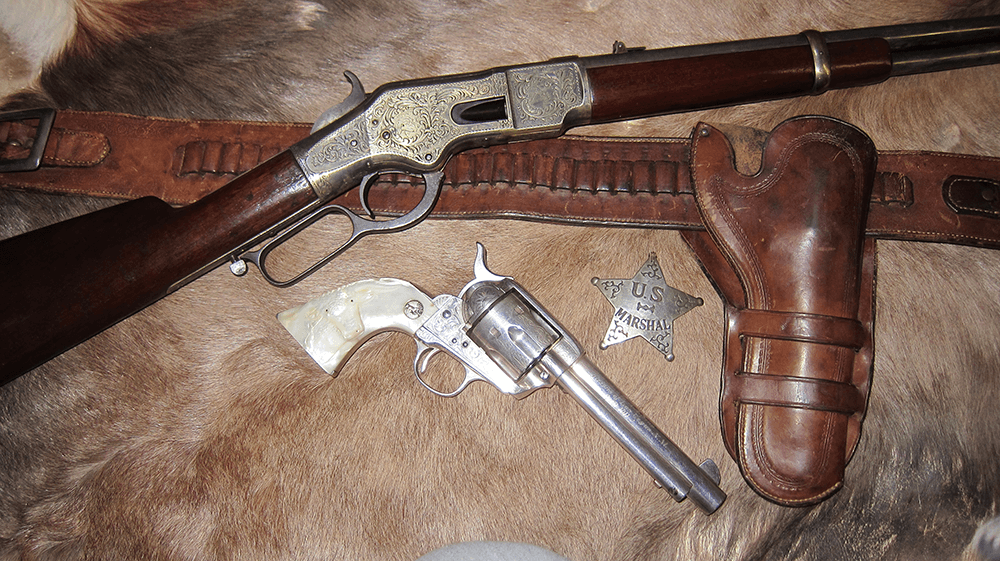 Model 1873 Trap Door Bayonet and Scabbard
RARE model 1873 trap door bayonet and scabbard. In 1877, a scabbard that would attach easily to the 1876 Pattern (web) Cartridge Belt was approved for field testing. A double brass hook, similar to that used on the haversack strap, was sewn to a narrow frog which fit over the 1868 pattern scabbard body. The hook was slipped into a ring sewn into the bottom of the 1876 pattern cartridge belt, forth type. Records indicate that five hundred of these scabbards were sent to Fort Lincoln, Nebraska for field testing. They were re-called in 1883 and the scabbard was not adopted for general use, with no more being produced.
The scabbard and bayonet are in excellent condition showing 95% of the original shinny blue finish. The leather frog is in fine condition with just some of the black finish flaking off. The original stitching is all intact and good. The metal scabbard shows a small "M" inspectors mark and the bayonet has the "US" marking.
A rare set that's not often seen and never in this condition.
Clarks Antiques – Western Memorabilia – Model 1873 Trap Door Bayonet and Scabbard – Price $275.00
Item #1558