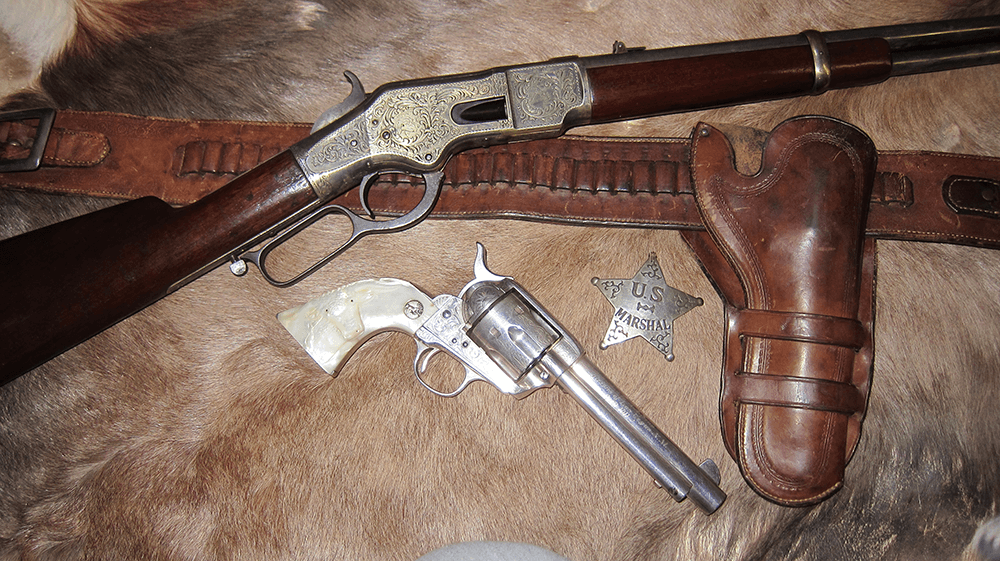 Winchester Brand, Circa 1885
This is a very nice OPENED (on three sides) antique 38-40 ammo box with a full compliment of original cartridges. It's a first issue, central fire, Winchester Brand box, circa 1885.
Antique .38-40 Ammo
It is in very good overall condition, showing the early "old time" graphics and a picture of a cartridge on the end of the box. The top green label shows a few rubs and edge wear. However, it is fully readable. The box is solid with a few seam splits to the bottom. All of the red side wrap is still intact. Although, a little faded from time. Also, the reloading label on the inside of the lid is very good and fully readable. The cartridges are un-touched and in very good condition.
A great display box for an early black powder firearm of the same caliber.
We have another one of these boxes, identical to this one, Item #1719, but not as nice.  It is priced at $425.00.  You can contact us for more information if you are interested.
Covered with plastic wrap for protection.
Clarks Antiques – Antique 38-40 Ammo – Price $600.00
Item #1701
* Can't ship antique or modern ammo to California, Hawaii, and Alaska
This item goes well with our Winchester 1873 SRC 38 WCF