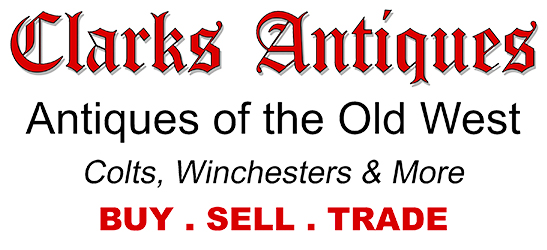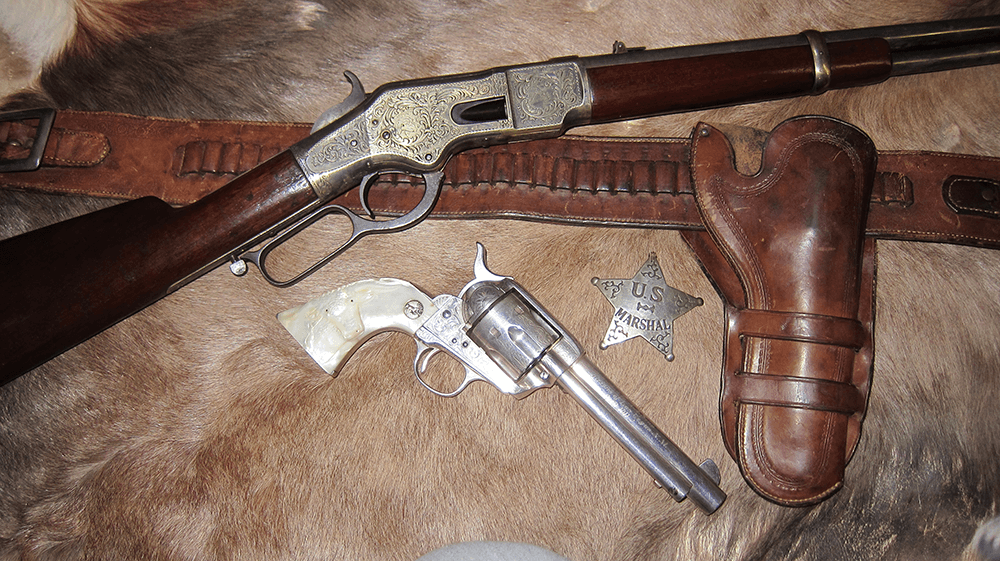 A very early, and hard to find, box of UMC 44 Long Rimfire ammo with round nose bullets.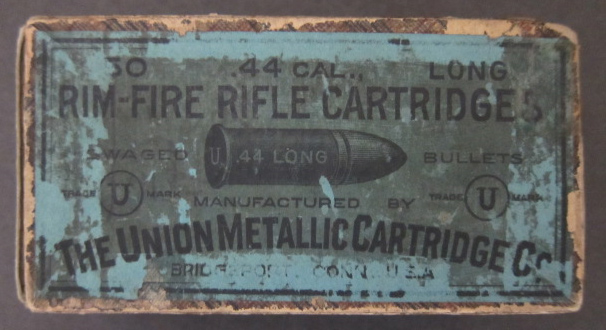 This box of antique UMC 44 long rim-fire cartridges were much more powerful than the 44 Henry RF cartridge. They could be used in the Colt 44 Rimfire Single Action revolvers, made in 1877 and 1878, as well as other period revolvers with "bored through" cylinders. The 44 Long RF would not chamber into guns that were built to fire the 44 Henry RF cartridge, i.e., the Henry Rifle or 1866 Winchester. Originally, the 44 Long RF was a popular rifle cartridge that was developed in the late 1860's, but faded from use after the introduction of the 44-40 Central Fire cartridge. The 44 Long RF disappeared early, but the 44 Henry ammo was produced up into the 1920's. Therefore, the 44 Long RF boxes are more rare than the 44 Henry boxes.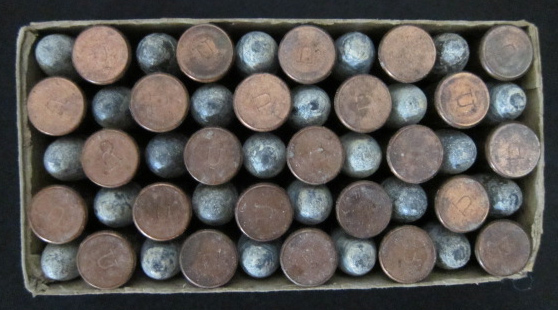 Ammo Condition
This box is OPENED with a full complement of the original cartridges having the "U" headstamp. The cartridges are in very good condition and un-cleaned. The box itself is in overall fair condition, the bottom part reinforced and solid, the top part showing some repaired seams and missing parts. The right-side tab, upper and lower is a replacement. The top label is still all there and readable.  Although, it does show a lot of soiling and edge wear.  In addition, there was tape on the top edges at one time, now gone. But, all the other sides and bottom are the original plaid-colored parts with remnants of the wrap around label. The bottom "Guarantee" label is all there, worn, and about half readable. As bad as it sounds, it is still a good box and very difficult to find in any condition.
This box would look great with an old Colt 44 Rim-Fire SAA display as it is probably about the same condition as the average SAA in that caliber.
Covered with plastic wrap for protection.
Clarks Antiques – UMC 44 Long Rimfire – Price $900.00
Item #1438
* Can't ship antique or modern ammo to California, Hawaii, and Alaska
If you like this item, you may also like our UMC 44 Short Rimfire Ammo