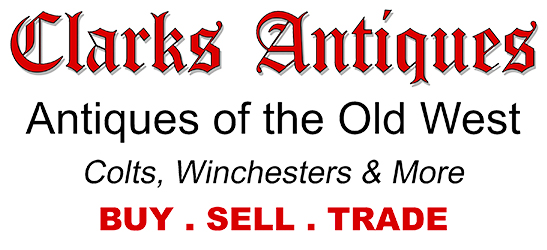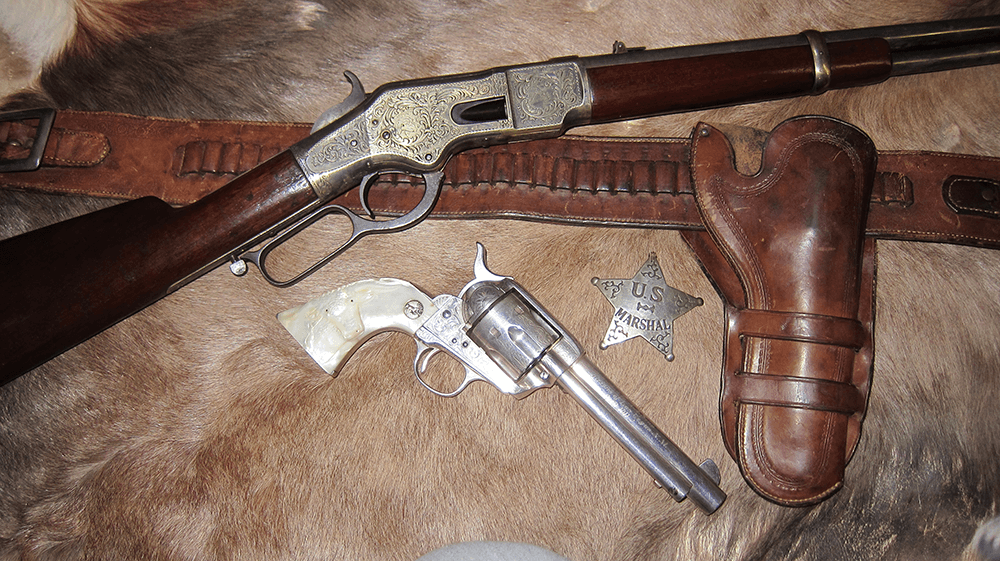 New Items Recently Added to CLARKS ANTIQUES
Factory Engraved Presentation Colt 45
Historic New Mexico Inscription
Clark's Antiques New Items arrival is this true piece of Western history. It is a stunning factory engraved Colt SAA. This Colt Single Action Revolver has a historic New Mexico inscription to a Las Vegas, N.M. law man. The revolver is a first-generation Colt SAA presented to A. A. Sena, a New Mexico mounted policeman. The gun is factory engraved and factory inscribed "Presented to A.A. Sena by the Citizens of Las Vegas, New Mexica, April 1911".
Holster for 1851 Navy Colt
SOLD
A very desirable "California" Pattern Holster for a Colt Model 1851 Navy Revolver. This Colt 1851 Navy holster shows a nicely flower carved pouch, typical of the early 1850's era. However, there are no markings and the maker is unknown. The navy holster is made of medium weight russet leather. Furthermore, the holster has the classic recurve throat and copper riveted belt loop.
Sealed .44 Henry Ammo Rimfire Flat
Certainly, to find an 1870's Winchester box of UN-OPENED 44 Henry ammo is a very rare find.  A box of UN-OPENED Henry ammo from any era is a hard find and this one is in near mint condition. This Winchester box is in overall fine condition with the top green label showing fading to the darker side.
This U.S. issue 1860 Army Flap holster is an especially nice example to accomodate a Colt 1860 Army revolver in similar condition.  The holster is maker marked, which most of these holsters were not. Furthermore, the holster is completely intact with no damages or losses. Also, all the stitching is original and completely intact.