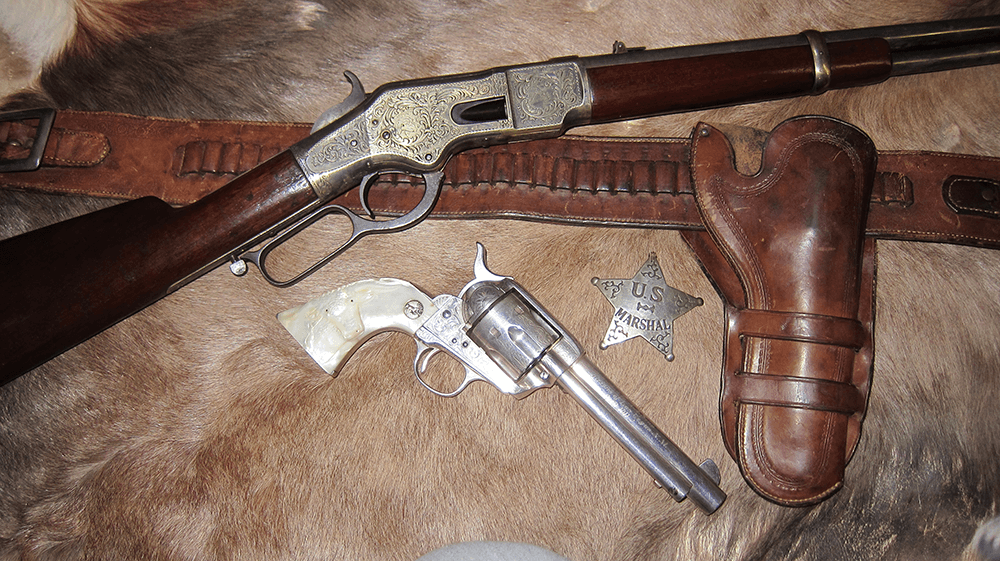 New Items Recently Added to CLARKS ANTIQUES
A very nice OPENED box of Remington UMC 44 Henry ammo. This later box, marked ".44 Henry (Flat) Rim Fire Cartridges", was manufactured after the Remington/UMC merger in 1911.
Marked "101" on Left Grip
This is an antique Smith & Wesson Model 3 single action revolver in a rather rare configuration. Additionally, it is marked "101" on the left grip, for the 101 Ranch. This model was made from 1878 to 1912, serial numbered 1 thru 35796.  Most of these old 101 Ranch guns show a lot of use as this one does. Its markings and caliber make it a RARE and more desirable configuration to collectors, as well as the 101 Ranch provenance.
Winchester 44-40 Ammo, Blue Label
It's a full, OPENED, box of Winchester 44-40 Ammo, Blue Label,  central fire, black powder cartridges. The blue labels are rare, therefore, they are always sought by collectors and commanding a premium. A rare variant of a commonly found box.
An excellent early box of ammo in fine condition.  This central fire cartridge box shows a light green label with the early elongated oval "UMC" logo.