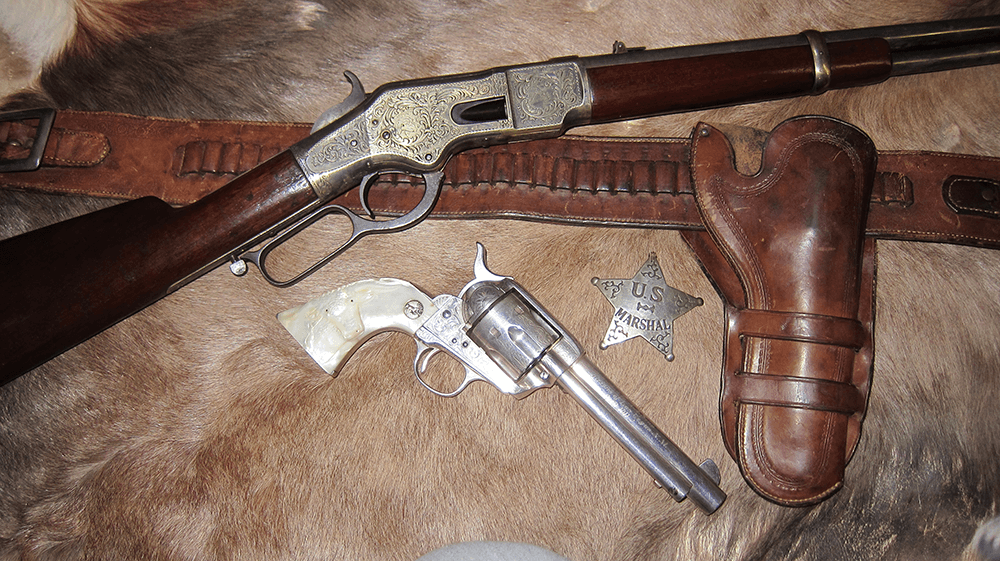 New Items Recently Added to CLARKS ANTIQUES
A beautiful 4th Model 1866 Winchester Rifle, serial #164XXX, made in 1884. This is a special-order nickel rifle, per factory letter (included) verifying Rifle, Octagon Barrel, and Nickel Trim. The rifle also shows fancy grain wood.
An antique holster & belt, circa 1885 – 1895. The holster is for a 4 ¾" Colt SAA and the belt loops will accommodate .38 Colt or .41 Colt cartridges. The holster is a hand tooled and chamois lined single loop holster in overall fine condition.  The money belt is a great looking belt in good overall condition and fits the holster in color and of the same era.
New Items Recently Reduced on CLARKS ANTIQUES
Henry Marked Barrel – Yellow Boy
Here is a very attractive example of an early engraved Winchester 1866 Carbine Yellow Boy. This Winchester '66 is an early 2nd model with many special features.  Including, the concealed "inside" serial marking and a "Henry" marked barrel.  This would be a great addition to any collection of "special order" and unique Winchester lever action firearms.
73′ Carbine in Rare 32 WCF Caliber
This is a rare Winchester 1873 SRC in 32 WCF caliber.  This '73 carbine has all the standard feature of a 32 WCF SRC. Including rifle type barrel band and no trap in the butt stock for a cleaning rod. A factory letter is included for this '73 Winchester SRC.  The letter verifies configuration and the shipping date of June 19, 1889. All the parts are original.