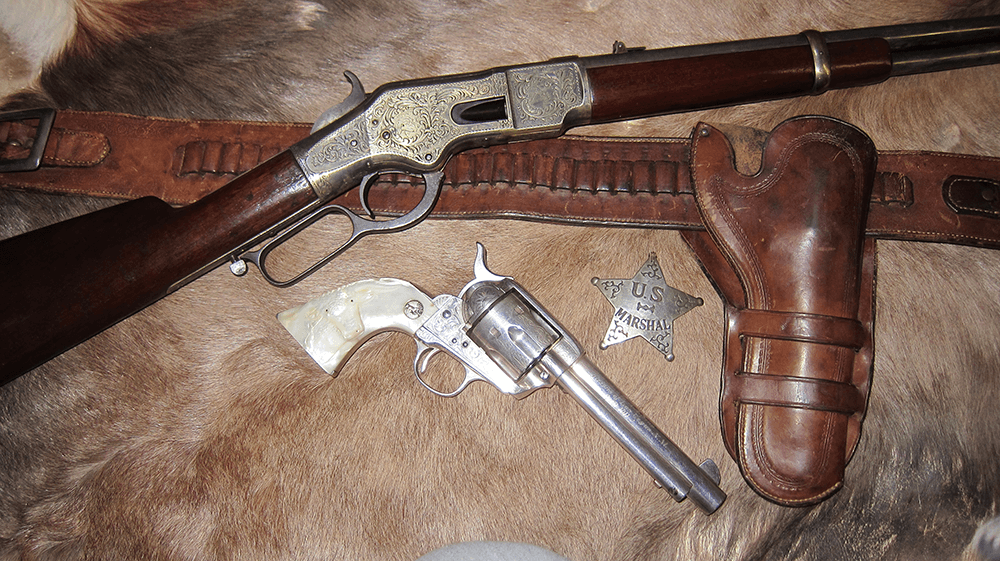 New Items Recently Added to CLARKS ANTIQUES
This is a fabulous Colt SAA 3rd Gen .45 caliber revolver NEW in the custom shop box. It is fully factory engraved in class "D" early Germanic style scrolls.  Also, it is fully silver plated with fire blue screws.  In addition, all features are verified by factory letter (included).
This is an exceptionally nice 1874 Cavalry Belt Rig with the scarce 1874 Hazen Cartridge Loops for the 45-70 carbine. This rig is a typical Cavalry Trooper's belt rig worn during the Western Indian Wars.
Prairie Holster & Belt Rig
An excellent frontier era prairie belt rig showing little or no use what-so-ever. The holster is beautifully hand tooled in period floral patterns for a Colt 7 ½" 44-40. It's a half skirt holster with a single loop and constructed from heavy pig skin. Also, this beautiful holster is accompanied with a RARE Prairie Belt made for the civilian market.  
Winchester Rifle Scabbard
This is an early catalog type Winchester rifle scabbard to fit an 1866/1873 Winchester rifle with a 24″ barrel.  SOLD