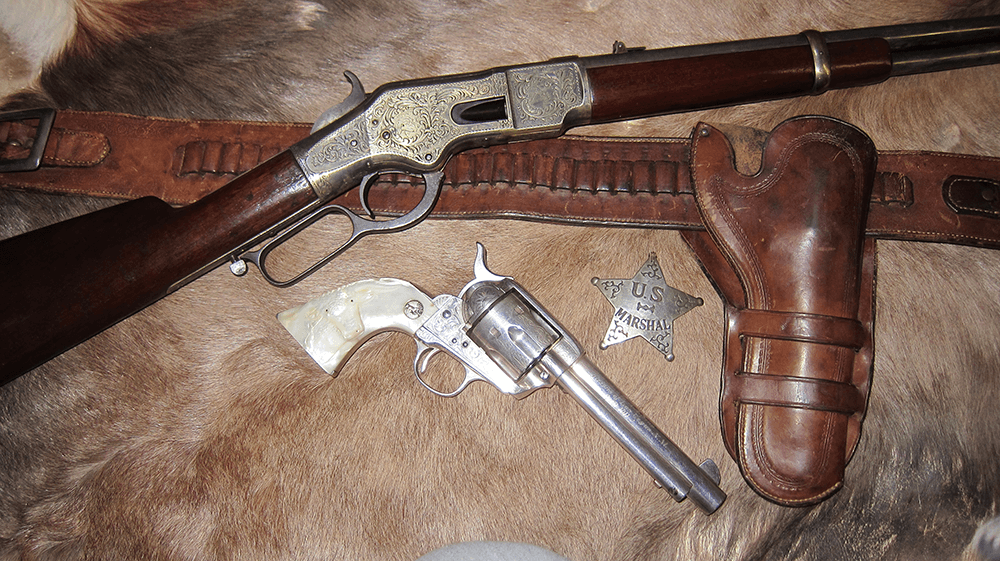 New Items Recently Added to CLARKS ANTIQUES
Colt SAA Buntline 3rd Gen
This Colt SAA Buntline 3rd Gen is a long-barreled variant of the Colt Single Action Army revolver.  The Buntline sports a 12″ barrel in .44 special caliber. It is cased in its original Colt custom shop walnut presentation box.
This US Calvary prairie belt rig includes a pattern 1885 cartridge belt and a pattern 1881 flap holster. The Pattern 1881, two position, Cavalry flap holster shows the larger belt loop for use with the woven web cartridge belt. 
Winchester Brand – Rare Picture Box
An excellent antique Colt 45 ammo box. These Winchester brand Colt "picture" boxes showing an 1878 Colt revolver are very desirable and always in demand.  This box has NEVER been opened.
Remington Double Derringer
A second model Remington Double Derringer with original nickel finish and fire blued accents. It shows a one-line address on the top of the barrel "Remington Arms Co. Ilion, N.Y.". It's in excellent overall condition, and the hinges are solid with no cracks.