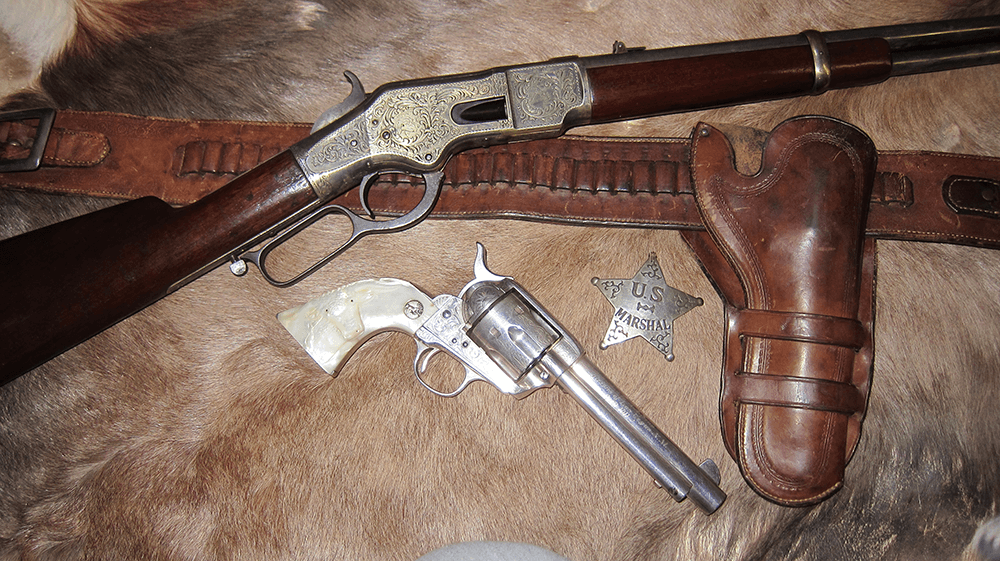 New Items Recently Added to CLARKS ANTIQUES
Walker & Hall Bowie Knife
This knife is 15″ overall with a 9 ¾" blade, stag handle with German Silver mounts. It is a heavy high-quality knife that they were known for. The knife and scabbard are in overall excellent condition showing no damage and little use.
Colorado Rangers Belt & Harpham Holster
An original Colorado Rangers Belt & Holster for a Colt 5 ½" SAA, circa late 1890's – 1915. The cartridge belt shows the early "Colo State Department of Safety" marking, prior to the department being re-named to the "Department of Public Safety" in the early 1900's. A reproduction Colorado Ranger badge is attached to the belt.
New Items Recently Reduced on CLARKS ANTIQUES
Antique Nimschke Engraved Colt SAA
​A true piece of Western lore is this Antique Nimschke Engraved Colt SAA. A fantastic "shootist" colt single action from the early days of the Wild West.
Winchester Brand Colt "Picture" Box
An excellent antique Colt 45 ammo box. These Winchester brand Colt "picture" boxes showing an 1878 Colt revolver are very desirable and always in demand.  The box shows an excellent top label with absolutely no losses. Most importantly, this box is UNOPENED, factory sealed, with 100% of the side wrap-around label in place.