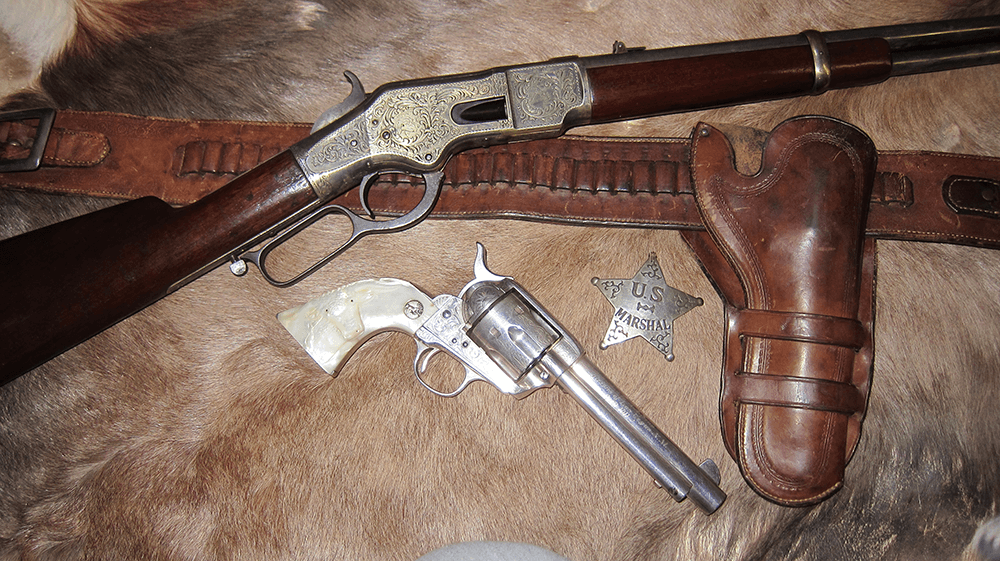 New Items Recently Added to CLARKS ANTIQUES
This is a very nice OPENED antique 38-40 ammo box with a full compliment of original cartridges. It's a second issue Winchester Brand box, circa 1900. It is in very good overall condition.
A very RARE one-of-a-kind 44 Henry cartridge belt. This is the all-leather scouting belt, known as the "Fair Weather Christian Belt". This is an excellent specimen of a rarely found all-leather (mostly) cartridge belt, undoubtedly made by a soldier or saddler in garrison.
A very fine, early Colt 1877 DA Lightning, made in 1879. The revolver is .38 caliber with a 3 ½" barrel, sheriffs' model, nickel finish, with an inscribed name on the cylinder. 
An early, RARE, Winchester 1886 45-70 extra light weight rifle with a 22" round barrel and FULL MAGAZINE. This is an early 1899 made take-down rifle in full blue finish. A factory letter (included). Rare configuration.