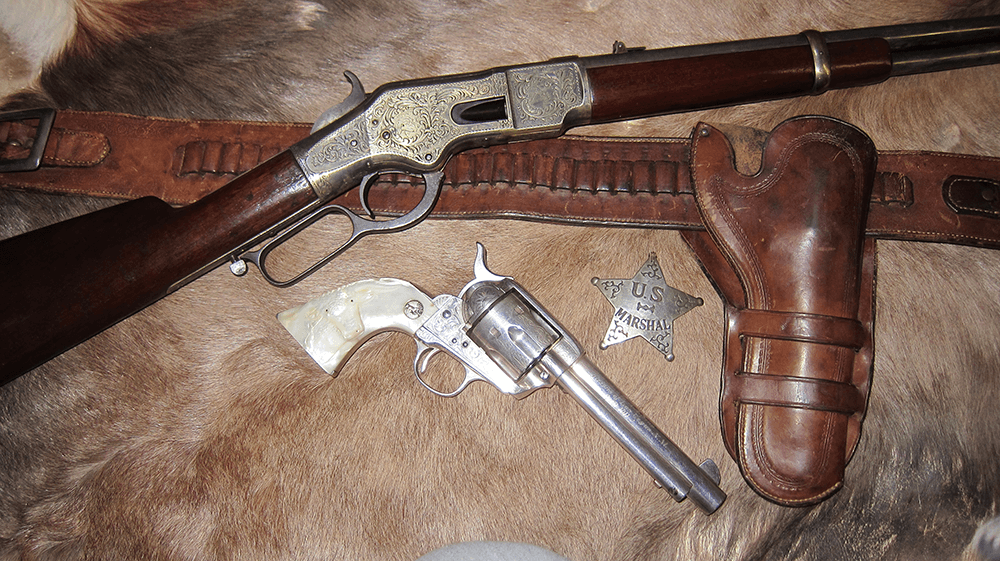 1860 Army Colt – Main & Winchester
This slim jim holster is made for an 1860 Colt Army revolver. It is prominently marked "Main & Winchester, San Francisco" on the back side.
Main & Winchester Saddlery was the largest maker of leather goods on the West coast during the California gold rush. They were well known for the high quality of their products. Thus, this holster is such an example of their quality and artful gun leather.
Holster Condition
The holster is beautifully hand tooled in floral motifs with a full sewn-in lining. It shows most all of the original stitching and the original toe plug. Although, two ½" spots of stitching has come loose, it is bonded back in place and scarcely discernable. The leather is supple with no losses and no oiling. In addition, the leather is a mellow brown color showing the original surface sheen. Also, the holster is marked prominently on the upper pouch, back side, with their well-known mark.
The original belt loop is on the back side with all its original stitching. The holster is in overall excellent condition, showing some use.
Certainly, a great find for that excellent 1860 Army Colt in any collection.
** Toy gun shown in Clarks Antiques antique gun leather photos not included.
Clarks Antiques – Antique Gun Leather – Slim Jim Holster – Price $2,450.00
Item #1609
If you like this you may also like our Slim Jim Holster