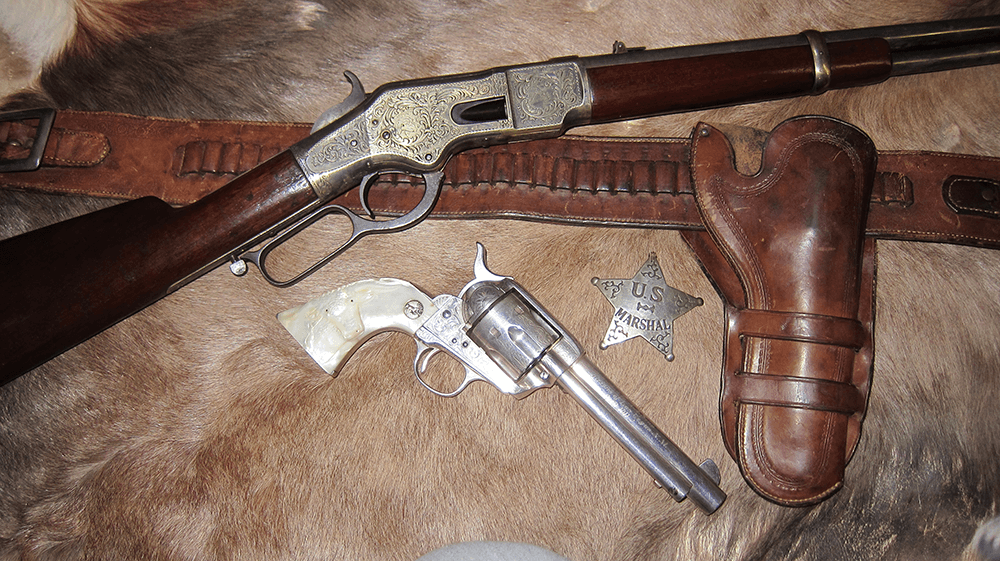 Pattern 1881 U.S. Flap Holster
This is a seldom found US Cavalry sword rig with belt and hanger, along with a Pattern 1881 U.S. Flap Holster. This type of belt was commercially manufactured for sale to Army officers in the time frame of 1851-1874.
Belt – Condition
The belt is made of a light polished leather folded over a cloth core. It has decorative machine stitching that runs the full length of the belt body and perforates through both sides. They came with various styles of high relief, gilded buckle plates (gilding is gone on this one) and a belt slide with a spring detachable sword sling. The back of the plate is marked "The Pettiron Bros, Mfg Co, Cin'ti. O.". The folded construction belt was light and relatively flimsy and susceptible to moisture, deteriorating quickly in arduous service. For that reason, finding one such as this one, in very good condition, is truly rare, even though they were relatively common.
This belt shows all the original stitching.  In addition, the cloth core is still in place. Also, it comes with its original belt slide and spring-loaded detachable sword sling with dismounted hook. The sword slings were constructed in the same manner as the belt and deteriorated even quicker than the belts – as this one has. Although it has the original hanger and slings, additional material has been bonded to the back of the original slings to hold them together.
Pattern 1881 Holster – Condition
The Pattern 1881 holster is in very good overall condition showing the embossed "US" in the oval on the front. There is an inspector's stamp that is illegible at the bottom of the flap. The leather is still supple, but the shiny black finish has gone dull over time. There is no damage or losses to the leather, all the original stitching is intact and the original toe plug still in place.
A great rig with a rarely found sword belt.
Clarks Antiques – Antique Gun Leather – US Cavalry Sword Rig – Price $1,250.00
Item #1615
If you like this you may also like our US Cavalry Saber