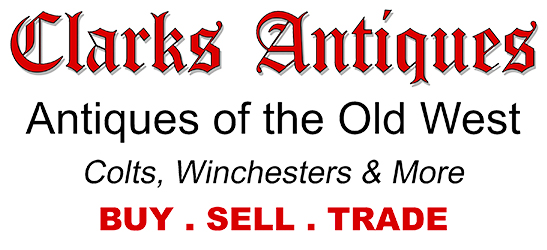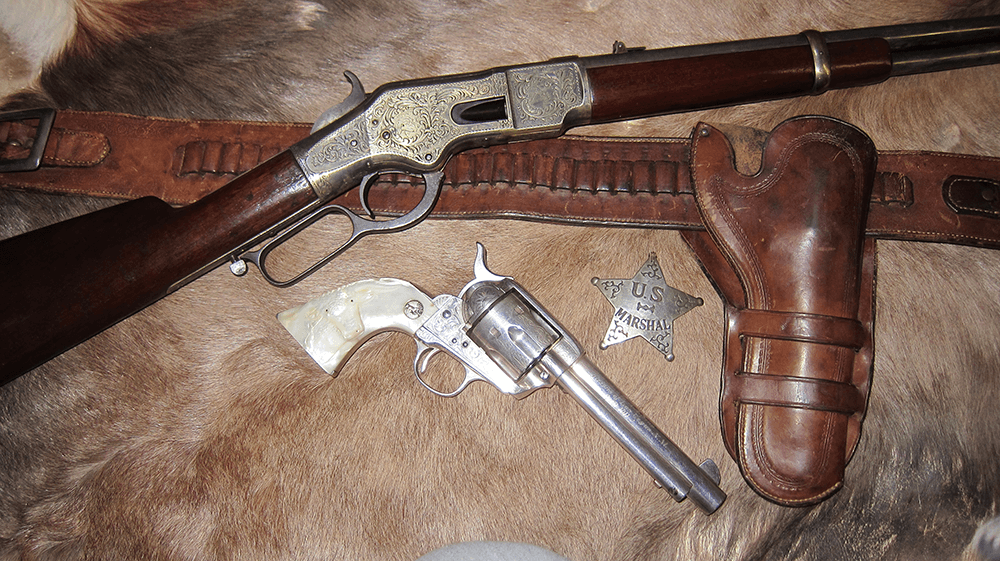 Antique Long Guns / Rifles
WINCHESTER 1866 HENRY MARKED RIFLE
Yellow Boy with Historical Documentation – Made in 1869
This Winchester 1866 Henry Marked Rifle was owned and used by George R. Wood in the San Francisco area of California while he was employed as a tax collector.  This Winchester yellow boy is professionally inscribed "G R Wood" on the side plate. He was a sheriff in Wisconsin prior to the Civil War and enlisted a full company of men (101) for the Union Army in 1862.
George Wood was elected their Captain and fought in many battles until his resignation in 1865 as a war causality. After the war he moved to San Francisco and in 1886 he filed for his war pension because of disabilities caused from the war and his inability to work.​​
This early "Henry" marked Winchester '66 rifle was made in 1869. The serial number is RV19823 and is located on the frame tang under the butt stock.
Caliber is .44 Henry, rim fire (firing pin missing, but easily replaced). The octagon barrel and magazine tube have been period shortened to 21½". The barrel still has a good strong bore remaining and has period replaced non-factory sights, rear being a fixed buck horn type in the original barrel dovetail. There is an additional dovetail cut in the barrel right thru the barrel address, but the "Henry's Patent" is still fully visible.
The overall condition is fair to good with all metal parts a dark brown patina. The brass frame also has a nice dark patina color with fancy scroll engraved name on the left side plate: "G R Wood". The inscription is professionally done and may be factory applied, but the rifle is too early to letter. Screws appear to be original with some buggering of the heads. Mechanics are good with the early hammer without a half cock position.
Butt stock has been sanded, repaired and stained. It was broken at one time and has been repaired with a hidden bolt thru the stock. There is some type of old wood filler around the butt plate area that was applied a long time ago and there is an inletted remnant of a sling swivel, intact, without the swivel. The wrist appears to have been wrapped with something at one time, but now removed; it has taken some of the frame patina with it. The forend is very worn with wood losses along the barrel on both sides and pommel wear on the bottom from being carried across the saddle. It is not worn thru to the magazine and there is some more of that old filler material on the forend.​
This Winchester yellow boy is still an attractive piece that shows much better than it sounds. It has seen a lot of wear from being carried across the saddle and shows period fixes over its long history and provenance to Captain Wood. His career before, during and after his U.S. (Union) service in the Civil War is completely documented and included with the rifle.
A list of the historical info and documents (included with the rifle) can be emailed on request to serious buyers.
Clarks Antiques Firearms – Winchester 1866 Henry Marked Rifle – Price $12,500.00

Item #1115
This Winchester 1866 Henry Marked Rifle pairs well with our .44 Henry Rimfire Antique Ammo