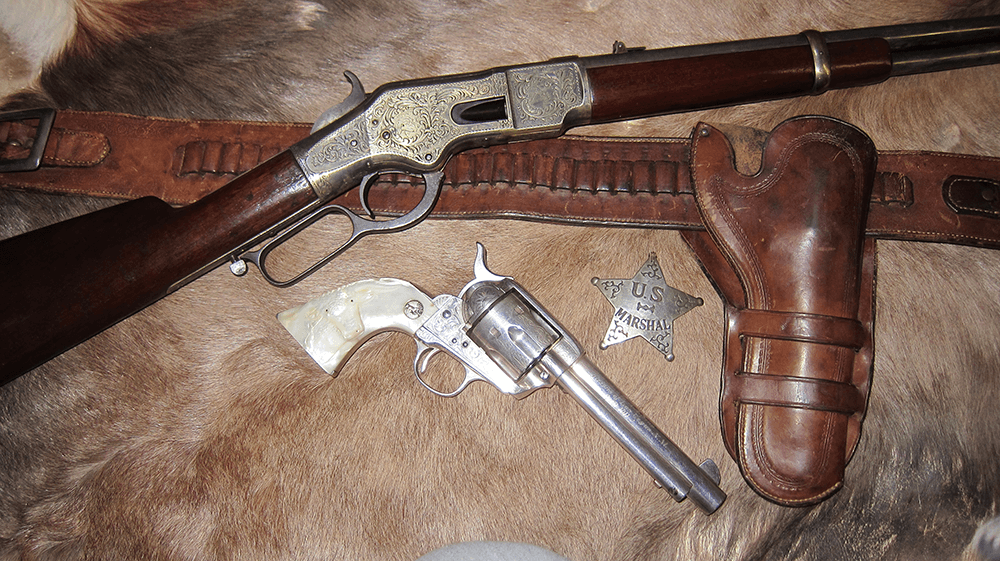 '73 Carbine in Rare 32 WCF Caliber
This is a rare Winchester 1873 SRC in 32 WCF caliber.  This '73 carbine has all the standard feature of a 32 WCF SRC. Including rifle type barrel band and no trap in the butt stock for a cleaning rod. A factory letter is included for this '73 Winchester SRC.  The letter verifies configuration and the shipping date of June 19, 1889. All the parts are original.  With the exception of a period replaced elevator on the standard 32-20 carbine rear sight (see photos).
Note: the standard rear sight on a 32-20 SRC shows elevations of 0, 5, 10, 20, whereas, the 44-40 & 38-40 SRC's show elevation of 1, 2, 3, – to – 9.
The overall condition is very good with most all of the original bluing present and turning to a pleasant plumb color. Walnut stocks are original to the gun and the wood to metal fit is perfect with just some shrinkage to the bottom of the butt plate. The stocks show the usual nicks and dings from use, but no losses. Mechanics are good. The trigger block lever is worn but still functions and the bore is fair to good showing strong rifling with wear and erosion from black powder use. Markings are good, 32WCF on barrel, 32 Cal on lifter (a little banged up) and a good visible barrel address.
A rarely found caliber in a 73′ Winchester SRC.