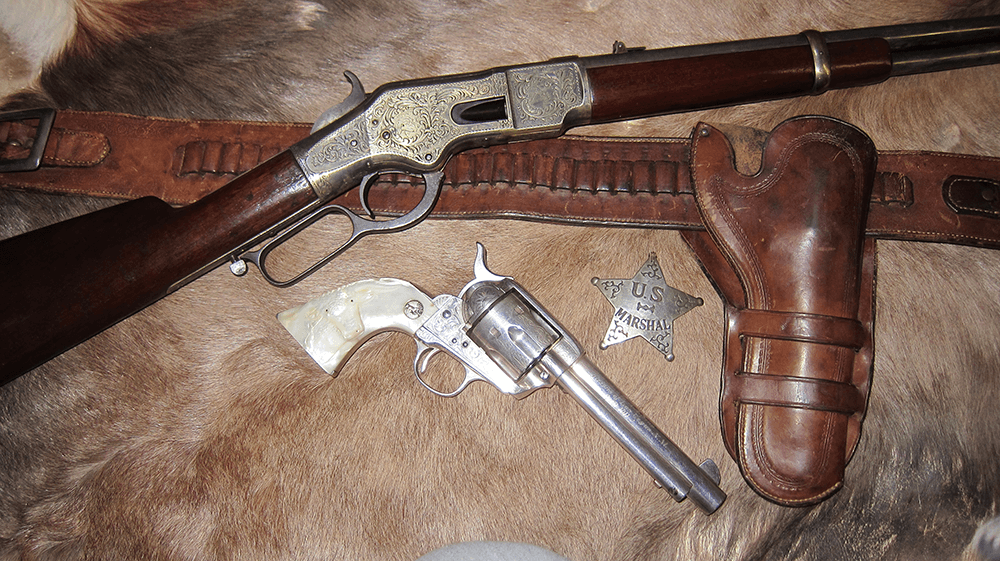 The Winchester 1866 Rifle was also known as the "yellow boy" and was the beginning of a long line of Winchester repeating rifles and carbines. Known as one of the "guns that won the west" and the "improved" Henry Rifle, frontier cowboys favored the brass framed Winchester repeating rifle. This 1866 rifle for SALE was made circa 1869, serial number 27XXX.
Condition – Winchester 1866 Rifle
The rifle is in remarkable condition for a gun that is 150 years old. It shows little or no use with an excellent bore. The gun appears to have been stored,  That is to say, the rifle appears unused, for many decades, as it was encrusted with old dried oil and a coating of light brown corrosion. Fortunately, it all cleaned off, revealing all it's original bluing, slightly muted by Mother Time. In addition, the hammer and lever have "silvered" out showing no case colors. Also, the stocks are in excellent condition and fit as they should. Along with the butt stock being numbered to the gun. The brass frame shows no polishing and has a mellow mustard color patina.  Likewise, all the screw slots are good. Lastly, the mechanics are good, markings good, and the rifle has the original sights and factory installed sling swivels.
A beautiful rifle throughout, this Winchester 1866 Rifle would be a great piece to add to a collection of western used firearms. Frontier cowboys favored the brass framed Winchester repeating rifle. Thus they are very sought after for todays collectors. 
** Note:  Additional high definition photos can be sent on request.
Clarks Antiques Firearms – Winchester 1866 Rifle – Price $11,500.00 SALE PENDING
Item #1605
If  you like this, you may also like our Winchester 1866 SRC