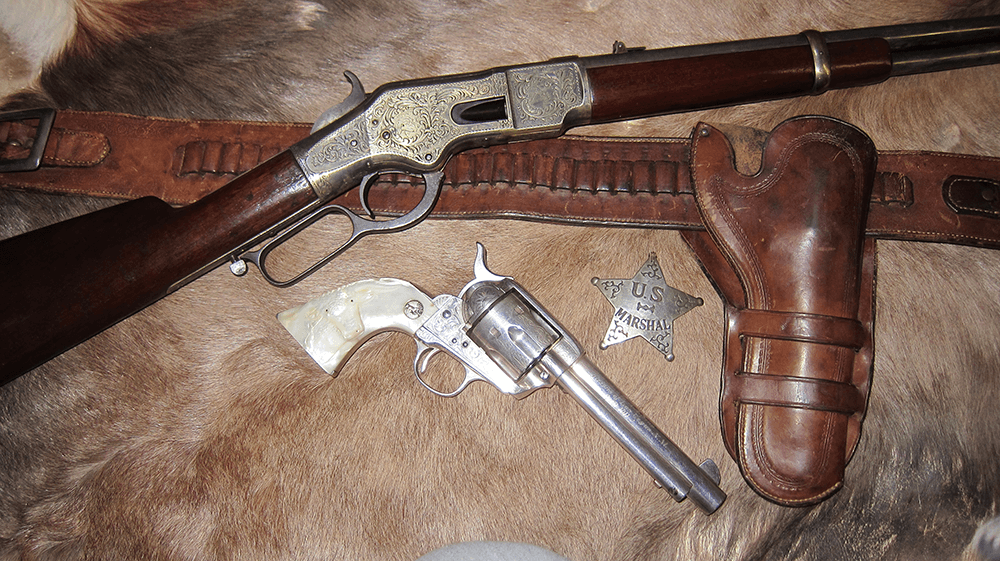 A beautiful 4th Model Winchester 1866 Rifle, serial #164XXX, made in 1884. This is a special-order nickel rifle, per factory letter (included) verifying Rifle, Octagon Barrel, and Nickel Trim.
Special Order Winchester Rifle
The rifle also shows fancy grain wood. Many rifles and carbines with one or more special order features, as this one, that were processed through Winchester's special-order shop will show fancy grain stocks installed as a matter of course. At the time, they were referred to as "extra finish" or "special finish" wood. These stocks were as nice as special-order stocks but lacked the "X" designations, or noted on shipping records, as they were not specifically ordered by the customer. This rifle shows the original fancy grain stocks that are "assembly" numbered to the gun. Also, the assembly number "902" is on the inside lower tang of the frame, the upper butt stock tang inletting, and the steel butt plate.
Winchester Rifle Condition
The rifle is in EXCELLENT overall condition, fully functional, in its original .44 rim fire configuration. Furthermore, all the markings are sharp and clear. It has the standard, and correct, "sporting" front and rear sights. The nickel frame shows 95-97% of the original nickel plating.  In addition, the nickel-plated butt shows about 90%, along with about 70% of the nickel on the fore end cap. The nickel loss on the frame is centered on the edges from handling.  Where as, the steel butt plate and fore end show the nickel flaking. 
The barrel and magazine show about 95% original toning blue, only worn on the octagon edges. Furthermore, the rear sight and magazine tube ring show 90% bright blue. The hammer and lever show muted case colors with some minor, fine erosion, on the lever. All the screws are original with good slots and original blue. Of course, the gun shows handling and use, with a good bore and only some minor erosion from black powder use. The stocks are excellent with minor scratches and dings. The wood-to-metal fit is perfect. Likewise, the stocks appear to have the original varnished finish with wear consistent to the rest of the rifle. Lastly, the original four-piece cleaning rod is in the butt cavity.
Note of Interest: In the April, 1882 Winchester Catalog it notes "a large reduction in 1866 model prices". The reduction was because the more powerful 1873 Model had been in production for 9 years and was in higher demand.
The 1882 Catalog prices for the Model 1866 were:
Sporting Rifle, round barrel, plain trigger……$22.00       
Octagon Barrel, add……………………………………$1.00
Nickel Plating Trimmings……………………….……$3.00
A beautiful special order 66′ rifle in all respects. A factory letter is included.
**Additional photos on request
Clarks Antiques Firearms – Winchester 1866 Rifle – SOLD

Item #1638
This Winchester 1866 Rifle pairs well with our.44 Henry Rimfire Ammo