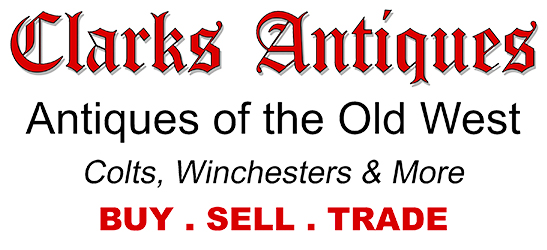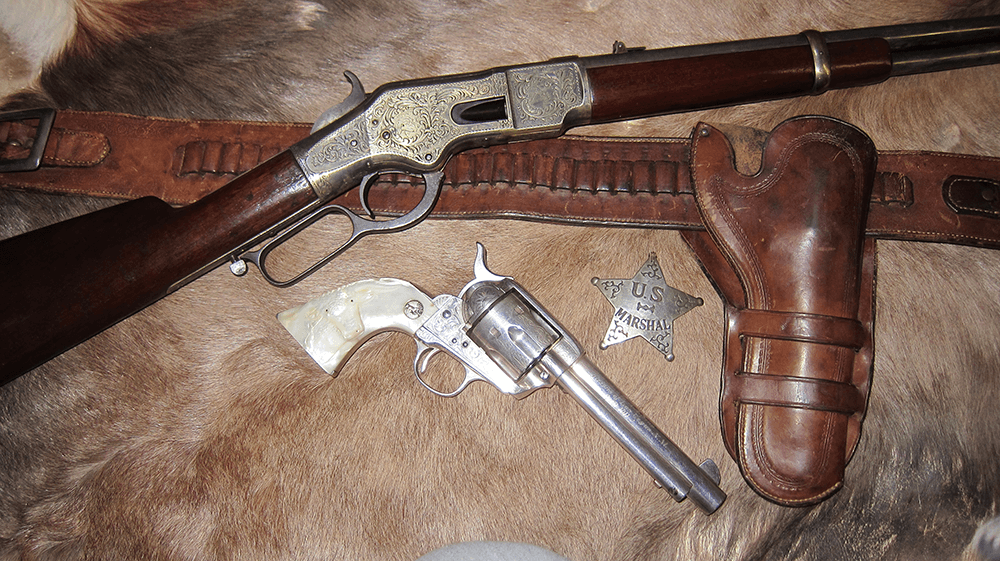 Winchester 1866 Trapper SRC
Saddle Ring Carbine
This Winchester 1866 Trapper SRC is a 3rd Model Saddle Ring Carbine with an 18" barrel, serial #43xxx, made in 1870.  According to George Madis' research, approximately only "30″ 66′ carbines were made with non standard barrel lengths. As letters are not available for these early 66's, I have been unable to document its originality.
Many "experts" have offered a multitude of pros and cons, but all have contradictions. Please see my article in The Winchester Collector "A Winchester 66′ of Interest", Spring 2017, page 26 (copy included with purchase). With all these observations, it is still an original 66' carbine with neat period additions and repairs. It is period converted to .44 center fire and was used well into the 20th century.

The carbine is in very good condition considering its extensive use indicated by its wear and period modifications/repairs. The barrel and magazine tube retain approx. 80-85% original blue, turning to plumb/brown from age. Although, the barrel address is light, it is still legible which is common on these models,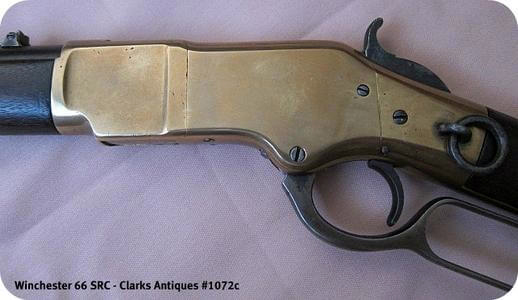 Winchester Mechanics
The mechanics are good, with only a weak finger retention spring. A metallic bushing has been installed on the right-side plate to replace the worn lever screw threads. Although, the bore is fair, showing black powder degradation and wear from years of use, it still retains strong rifling. Additionally, the walnut stocks are very good with a dark oil finish color. But they do show dings and scratches from use – no losses.
The butt stock appears to have been sanded at one time and is slightly undersize, but it is numbered to the gun. However, the crescent brass butt plate (correct for this model) is numbered "8720". Either it is from another gun or an assembly number.  Assembly numbers were used primarily for special order guns but will sometimes be found on production rifles and carbines as well. Also, the forearm stock matches the butt stock and fits perfectly to the barrel. It does not appear to have been sanded. In addition, the inletted sling swivel on the butt is not factory but is of the period and nicely done. The barrel band and swivel are from an 1861 military musket and is marked with a "U" – it fits well and looks good. Lastly, the front barrel band sight is original and fits as it should.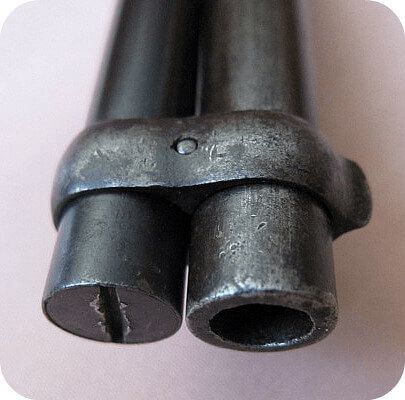 The early rear carbine sight is original to the gun. However, the upper portion of the flip-up yardage broken off. The original cleaning rod is in the butt stock cavity and measures 20 ¾" in length.  Although, shorter than what is usually found in a standard 20" carbine, it shows no alterations. The brass frame has been cleaned, NOT BUFFED, and is just starting to go back to a patina. Also, a few screws have been replaced.
This Winchester 1866 Trapper SRC was well used for a very long time, but well cared for. Even with all the period repairs mentioned above it still functions perfectly and is pleasing to the eye. A copy of the text of my article in the Winchester Collector  can be sent on request.
Definately a 66' of interest.
Clarks Antiques Firearms – Winchester 1866 Trapper SRC – Price $9,950.00
Item #1072
If you like this you may also like our Winchester 1866 Carbine