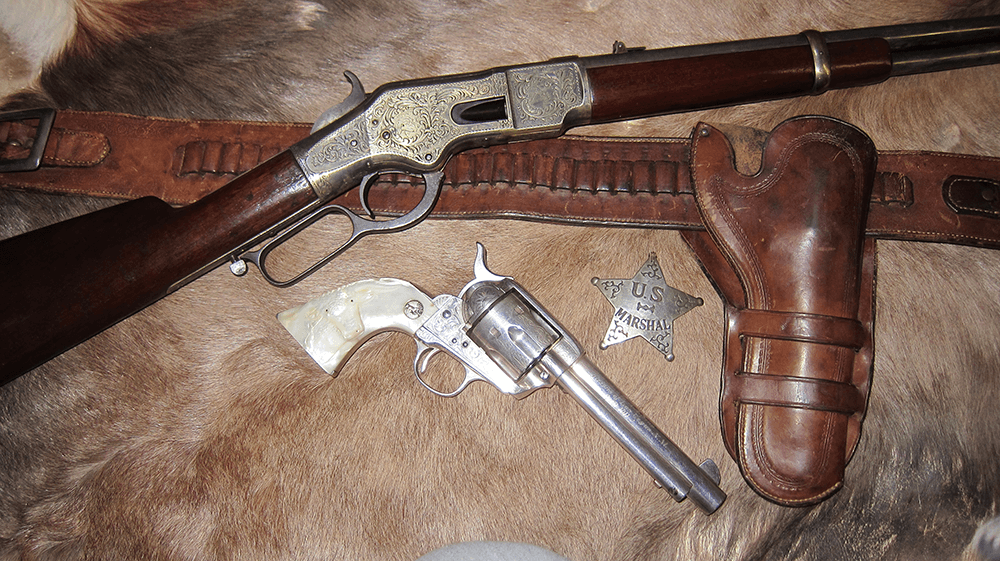 Rare Blue Label Box
It's a full, OPENED, box of Winchester 44-40 Ammo, Blue Label,  central fire, black powder cartridges. It contains all the correct and original cartridges in very good condition. The top blue label shows a few rub spots, one about a ¼" diameter on the word "Model". Other than the rubs, the box top and bottom are in overall very good solid condition. All the side wrapping is intact and cut for opening. Inside the lid is the reloading information data label.
Antique 44-40 Ammo
These Winchester boxes are very desirable to collectors and are always in great demand because of the "old-time" graphics. The label specifies that the cartridges are for the "Winchester Rifle Model 1873" and show a picture of a 73′ carbine on the side wrap. The blue labels are rare, therefore, they are always sought by collectors and commanding a premium. A rare variant of a commonly found box.
Covered with plastic wrap for protection.
Clarks Antiques – Antique 44-40 Ammo – Price $1,500.00 SALE PENDING
Item #1586
* Can't ship antique or modern ammo to California, Hawaii, and Alaska
This Winchester 44-40 ammo pairs well with our Antique UMC 44-40 Ammo