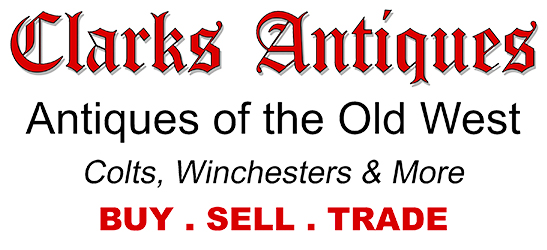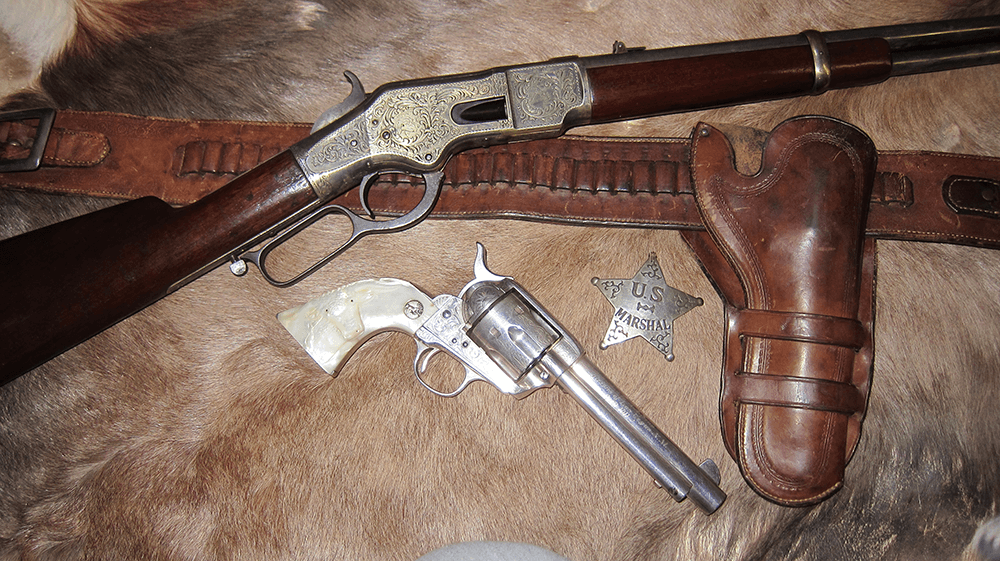 Slim Jim Holster and Belt 
This Slim Jim Holster and Belt is a way-cool old gold rush style rig showing tons of use and great character.
The Belt
The belt is a catalog belt marked "445". It is 2 ¼" wide x 38" long with 35 bullet loops for .44 caliber cartridges. All the loops show a period "hand" re-sew.  Also, the buckle chape is an old replacement with the original buckle. The belt is in fair-to-good condition showing surface crazing and cracking, but no losses.
The Holster
The holster is an early slim jim style with a double recurve throat. Also showing lots of use and wear with period repairs and modifications. It fits a 7 ½" Colt SAA like a glove. There is wear and splits at the bottom.  Along with some re-sewing at the top, and the belt loop is an old period replacement attached with rawhide. Period copper rivets fit the Colt SAA into the holster perfectly.
A way-cool rig that was there and seen it all!
Colt SAA and .44 caliber cartridges shown in Clarks Antiques antique gun leather photos not included.
Clarks Antiques – Antique Gun Leather – Slim Jim Holster and Belt – Price $1,250.00
Item #1726
If you like this, you may also like our Colt Open Top Holster