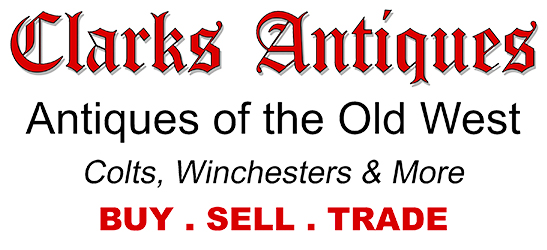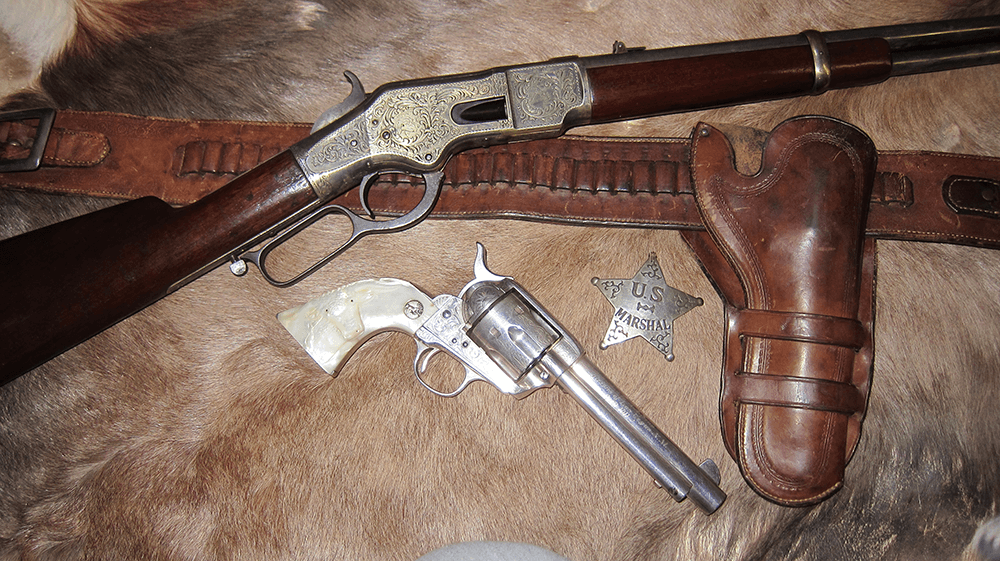 Allen & Wheelock .36 Lip Fire Revolver
A great piece of antique gun leather is our Civil War Revolver & Rig.
A very rare and unique Civil War era rig and low production, early metallic cartridge, single action revolver. Also, the rig includes a handmade belt and buckle, a period modified holster, a period Bowie knife and sheath, along with a military cartridge pouch. Undoubtedly made and used by a civil war soldier – but on which side?
The Pistol
This is a very rare Allen & Wheelock Navy revolver in .36 caliber, lip fire. It is a six-shot cylinder with a 6" octagon barrel and walnut grips. Only about 500 of these .36 caliber cartridge revolvers were produced in 1860 and they show "batch" serial numbers. This one is numbered 241 on the back face of the cylinder and on the cylinder pin. Most of these revolvers show the "Allen & Wheelock" barrel marking. However, this one does not, indicating it may be a very early production example. They were a very high-quality single action cartridge revolver with a unique ejector rod system.
They were discontinued due to a successful patent infringement against Allen & Wheelock by Smith & Wesson. In 1861 Allen & Wheelock came out with a nearly identical revolver, only in percussion. A similar quantity was produced and that production run ended in 1862. Although, no government contracts were given to any of these models, they are considered a martial piece by collectors.
This gun is all original and in good, or better, overall condition. The walnut grips are very good with no damage or losses. However, most all of the original blue is gone, the gun showing a gray patina. Despite black powder use, the bore is good with strong rifling. Also, the action is good, but the cylinder locking bolt is worn or has a weak spring.  Therefore, it does not lock up tight, allowing the cylinder to rotate and the action to bind.
The Holster
The flap holster is a typical Civil War style and fits the Allen & Wheelock revolver well. It appears to be a U. S. holster, modified to fit this revolver. It shows a replaced flap that was hand sewn to the holster with a replaced belt loop attached with period copper rivets. Also, It has decorative spots on the flap and upper portion of the holsters throat. It is in very good overall condition with all the original pouch stitching and the sewn in toe plug.
The Belt & Bowie Knife
This is a handmade belt and buckle, with an old period Bowie knife and handmade sheath. The belt is 1 ½" wide x 34" long with a buckle made from a bridle ring and hand sewn to the belt. The Bowie knife is of the same period, un-marked, with very worn old stag scales. The blade is 4 ¾" long. Also, the knife sheath is handmade and sewn with copper wire. Both are in very good condition with the leather supple and no damage or losses.
The Cartridge Pouch
The pouch is a Civil War cap pouch that is also in very good condition with all of its original stitching intact. It shows an inspection marking on the outside flap and a maker's mark on the inside flap. Only "Newark, N.J." is legible of the maker's mark. The inside fleece has been removed to accommodate metallic cartridges. The original pic, essentially used to clean out nipple obstructions is still inside. They are rarely found still inside the pouch. There are three (3) original, unfired, .36 caliber lip fire cartridges in the pouch.
Clarks Antiques – Antique Gun Leather – Civil War Revolver & Rig – Price $3,500.00
Item #1710
If you like this you may also like our Colt Pocket Police Conversion